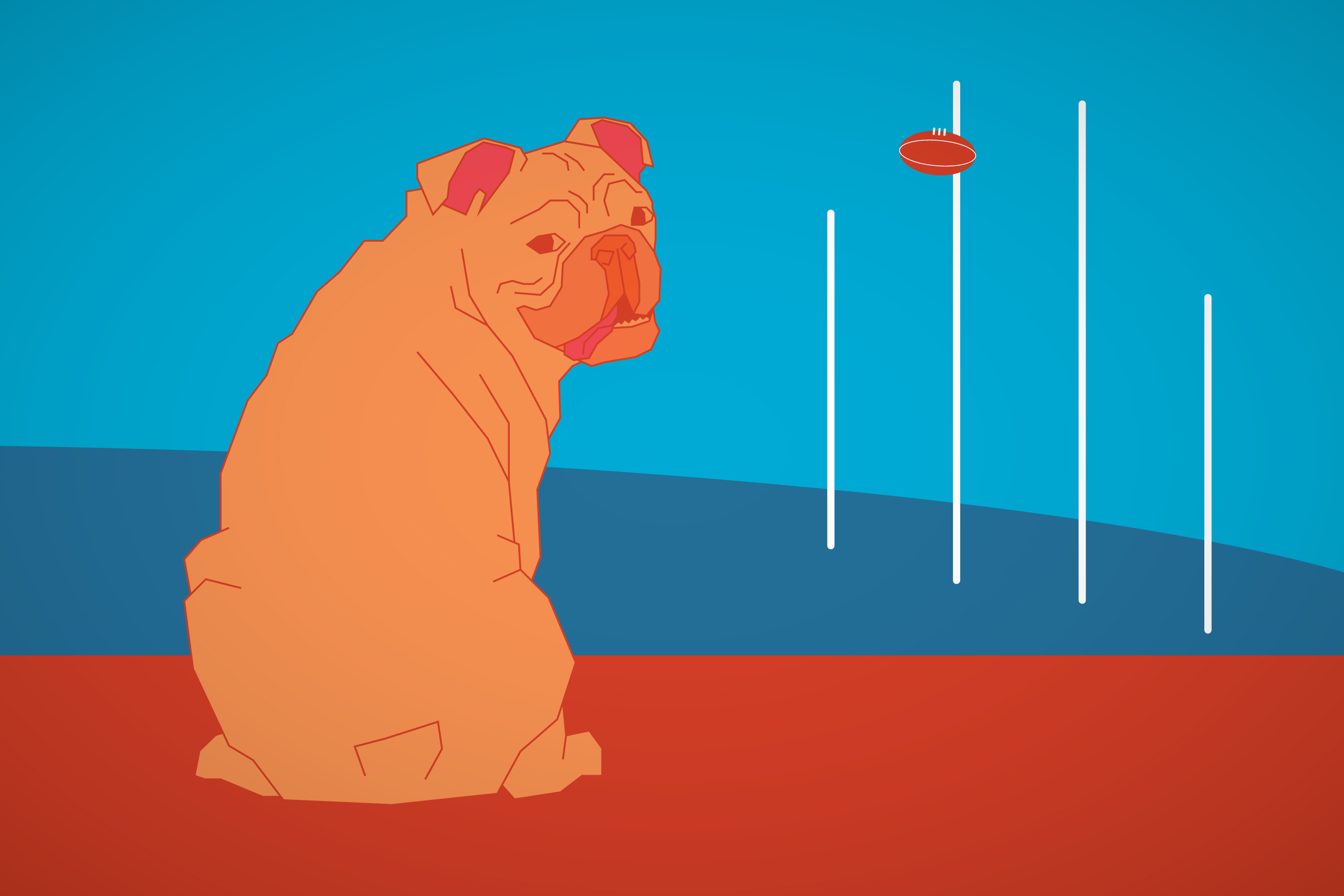 One of the most interesting parts of the fairytale finish for this year's AFL Premiers, the Western Bulldogs, is the central role played by the Children's book, "Salty Dogs".
As described by Luke Beveridge, the General Manager of Football had given him a copy of the book and he was surprised at how the book used a simple story to provide a powerful message around confronting your fears.
The book was used as a central plank of their language and culture, inspiring the team to get out of their comfort zone, face their fears and a bag record-breaking premiership. Fittingly, the final page of the book spoke about running into the fire, which was really what they had to do when facing their much-favoured opponents in the Sydney Swans on Grand Final Day.
While it's been a long time since I've considered trying to write a children's story, it does remind me of the work we do to help clients create big, powerful, repeatable stories to get them through their most wicked challenges. These stories are underpinned and expressed through things that you can make use of in a lot of different scenarios, such as value and vision statements, corporate objectives and employee value propositions. These elements provide a way to anchor your stories and link your cultural drivers to highly visible elements.
I have seen some stories used to good effect within teams where mantras like "Good to Great", Looks good, works well" and "Think One Team" inspire a focus on quality, commitment and achieving that extra 1 per cent. Each of these Mantras typically had a set of actions, messages, images and objectives associated with it that helped it to become a meaningful set of concepts similar to what you see in a good story.
In some other companies I have seen the history of the company, the pride in the products and the richness, scale or the diversity of the business form a highly motivating story. Equally, the service provided to the customer and the meaning in the contribution to the bigger, aspirational picture – when replicated across a business, tells a powerful and highly relatable story. In time, this type of story, if cultivated by the right leader and used in the right way can shape a culture and in turn, underpin a strong and sustainable focus on performance.
On the flip side, the wrong stories can tear a team or a company apart. Stories of division, entitlement, confusion and criticism can ensure that the ability to inspire a group internally or externally is greatly reduced. The same can be said for stories that do not hit the mark because their elements are too complicated, disconnected and not created in a way that connects with the people.
So, how do you build and nurture a story that can deliver you your fairytale premiership? These four themes are a good place to start.
Simple
Simple stories can be easily recalled, repeated and applied to many different situations. This is the distinct advantage that the kid's book had in that it is inherently simple, but within its simple content you can draw many parallels and use its learnings in many different situations. The more detailed you get and the more specific you get, the less broad appeal you have. It also almost goes without saying that it's hard to memorize a complex story, let alone tell it correctly.
Human
Building on the idea of a simple story, the next steps is to make it really relatable. A good story needs to connect with people at across many levels and areas, authentically. This means less jargon, less corporate speak and more human, emotive and well-grounded statements. Human stories are boosted by human imagery like faces, in addition to open and honest discussion that demonstrates real empathy and where possible, vulnerability.
Inspiring
Stories in this context have a purpose and more often than not they are in place to support an improvement or a maintenance if a great standard. Many teams and companies talk about achieving that "extra one per cent" and statements like this need to be supported by stories to make them applicable to the everyday. Stories also need to be inspiring to ensure they are attractive. Attraction is an important part of getting your people to commit that space in their crowded attention span, in addition to their memory. In a corporate sense, it's important to, make sure that your high level corporate objectives can be broken down into meaningful chunks that people can relate to in their role. These chunks form part of the story that gives their everyday effort meaning and connection to the bigger effort.
Visual
Giving a good story a strong visual representation helps people to understand and recall the key concepts without using reams of text. This can be achieved through both using the right descriptions (like a good novel) and using great graphics such as infographics explaining a journey, genuine (non-stock) photography and clever sketched images that give a unique feel to the composition.
Wrap up
So, just like the western bulldogs – keep your eyes open for the right combination of concepts to help your team do something amazing. Remember, to test it well with your people and the more you can get your leaders to embody the story, the better the result will be.