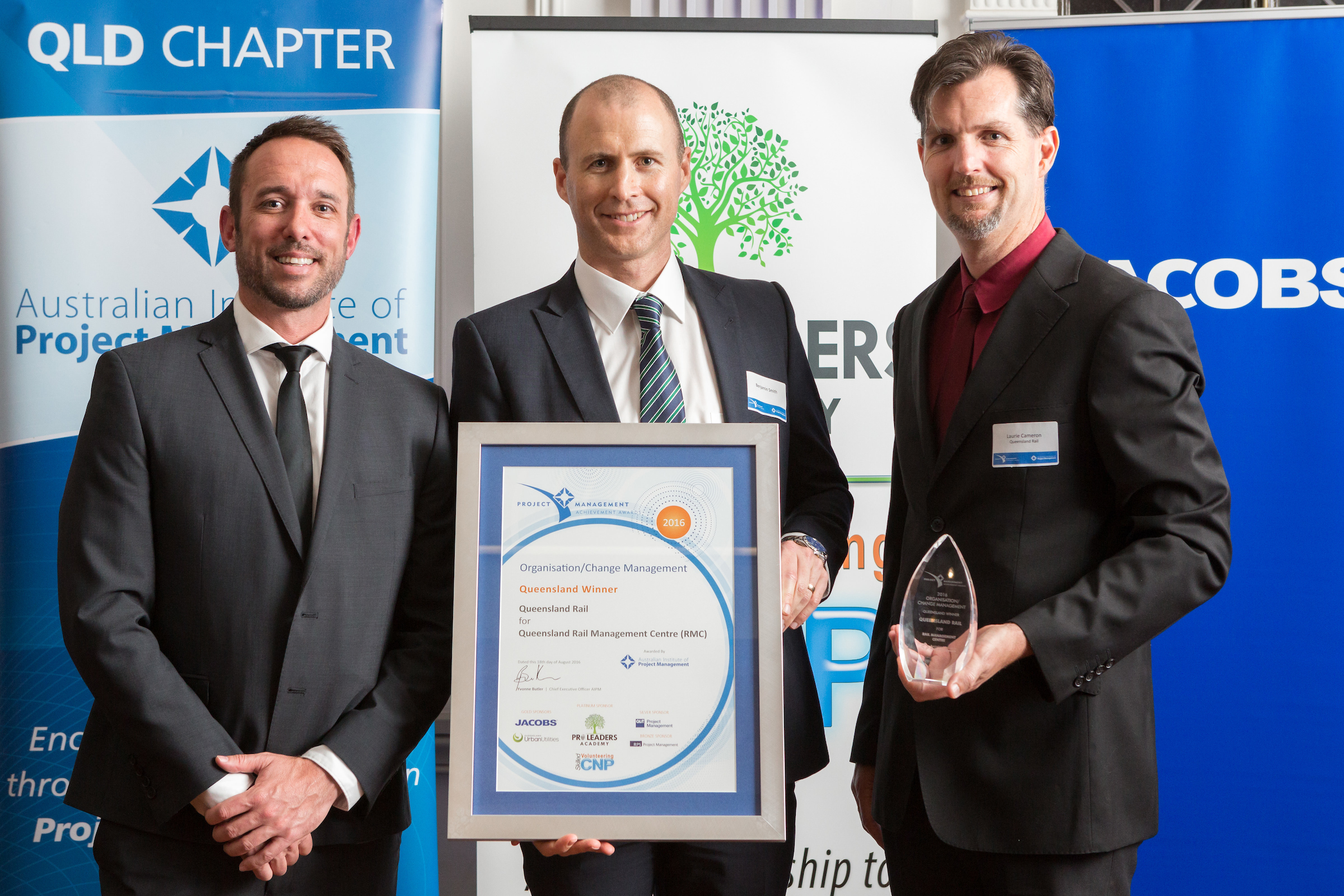 Caption: Jared Webster (Queensland Rail), Ben Smith (Stockwell Bretton) and Laurie Cameron (Queensland Rail) with the award for Organisational Change Management.
Held in Brisbane recently, the 2016 Project Management Achievement Awards (PMAA) recognised a swag of exemplary Project Management successes.
After being nominated in the Organisational Change Management category, Queensland Rail's Rail Management Centre (RMC) project not only won that category, but also went on to win the overall Queensland Project of the Year Award.
As the Change Management project partner for the RMC project, Stockwell Bretton were recognised for their role in overseeing the challenging transition into the new centre, alongside the introduction of new equipment and updated operating procedures, while building strong local ownership for the change.
The RMC facility is immensely critical to public transport in South East Queensland, with more than 250 Queensland Rail RMC staff supporting around 900 passenger services, 800 kilometres of track and 150,000 customers each weekday.
Managing Director of Stockwell Bretton said it is great to be recognised in partnership with Queensland Rail amongst elite company and significant projects.
"There are some exceptional projects being recognised here tonight and to win both our category and the overall award is very rewarding.
"The RMC project is a demonstration of how a collaborative and well considered approach to large changes can provide great results.
"We are grateful to Queensland Rail for embracing our open and proactive approach which provides the impacted staff with an opportunity to shape and support not just the change sequence, but also the long term operations.
"We were very lucky to be supported by strong leaders who helped us prepare and execute each stage of the transition using a 'best for business approach' that included capability, operational and cultural improvements", Mr Bretton said.
Phil Harlow, AIPM Chief Category Judge for Change Management said the judging panel described the submission and the project achievements as best practice in both organisational change and project management. See a summary of the Judging panel's comments below.
"This superb submission demonstrated excellence in both business/organisational change management and project management.
"The transition of business operations was achieved on the due date and the key underpins for this success are well articulated – transition planning and management, business improvement, communications and induction and orientation.
"The risks of failure were also very adequately addressed through the project approach adopted."
Media Contact:
Ben Smith
Ph: 0499 002 588
E: benjamins@stockwellbretton.com
www.stockwellbretton.com
This slideshow requires JavaScript.